Ministries
Food Pantry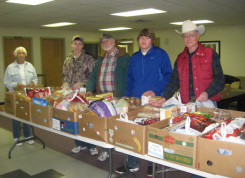 Our Food Pantry distributes food to people in need on the second Friday morning of each month from 9:00-12:00. Food is purchased as needed from the Concho Valley Regional Food Bank in San Angelo. However, our local Wal-Mart is the primary supplier, donating many pounds of food each week. Church volunteers pick up the food at Wal-Mart every Thursday morning and bring it to the church. On food distribution mornings, ministry team members handle the paperwork, pray with the recipients individually, bag and box the food, and carry it to the recipients' cars. In a typical month we serve over 100 families, with each family receiving around 30 lbs of food, plus an extra smaller box if there are children in the home.
---
AWANA, GA's, RA's, and Mission Friends

On Wednesday nights from September through April children from all around the Brady community converge at FBC for Bible study, mission study, and a meal. AWANA ("Approved Workmen Are Not Ashamed") is a national program that concentrates on Bible learning and Scripture memorization. Children from Pre-K and Kindergarten (Cubbies), through 1st and 2nd grade (Sparks), and 3rd, 4th, and 5th grades (T&T) learn Bible verses and Bible stories. Mission study involves GA's for girls, RA's for boys, and Mission Friends for preschoolers. All children are welcome.
---
Music Ministry
Beth Sparkman is our volunteer worship leader. She and the praise teams and the tech team lead us in heart-felt worship every Sunday.




​Norma Ridout is our church pianist and continues to bless us with her talent and dedication.
​

---

Deryl Bishop is our church organist. She and Norma spend many hours each week making our music for worship services an excellent offering to the Lord.
Youth ministry

The youth meet every Wednesday night in the Family Life Center for Bible study and fellowship. The Family Life Center opens on Wednesday evenings for the youth to come and enjoy the gym and "hang out" with their friends. At 6:30 the youth have a meal together, then at 7:00 they have worship and Bible study.
All middle school and high school youth in the county are welcome to be a part!


Deacons' Ministry
Our deacons are involved in every aspect of our church life, from teaching Sunday School, to serving the Lord's Supper, helping maintain the buildings and grounds, visiting the sick, and transporting food for the Food Pantry.
Two deacons are on call each month. Please feel free to call them if you have a need or know of someone in need.

Deacons on Call
Jerry Caraway 792-8671
Rod Young 456-1175




Bible Study
Mary Ballew leads a weekly Bible study and prayer time in her home on Monday afternoons at 4:00. Everyone is welcome to come and participate. The study and prayer time conclude at 5:00 Call 597-1393 for directions and more information.



_
---
Triple S: Seniors Serving the Savior

Triple S meets twice a month: the second Monday at noon for lunch and the fourth Monday at 5:30 for snacks and game night. Both meetings are in the Family Life Center.
Triple S is open to all seniors. Each person contributes $1 at each meeting, and the funds are used to help special causes as they arise and for some of the expenses of day trips in the area.
New members are always welcome! Come enjoy the fellowship!

---
Dorcas Quilting Ministry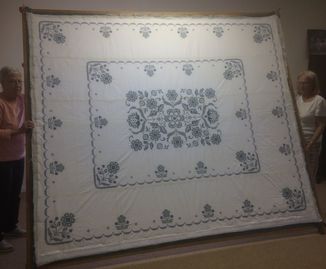 The Dorcas Quilters meet weekly in the Grace Sunday School classroom. The quilters have made dozens of baby quilts and a few full-size, hand-quilted quilts. Each baby who is dedicated in our church receives a quilt. In May of this year the group plans to give quilts to the graduates of Godly Impressions Preschool. They donate quilts and money earned from some quilting projects to people in need or to mission projects.
The quilt on the right was given to the group by Billy Whitaker. It is an embroidered top made by his late wife Doris. We put it in the frame on March 23, 2017, and put in the last stitch on February 14, 2018! The current project is the children's quilts for the preschoolers.
Anyone who is interested is welcome to come and help! Quilting skills can be acquired on the job! This group meets Thursday afternoons from 2:00 to 3:30.
---
Christian Women's Job Corps/Building Men for Christ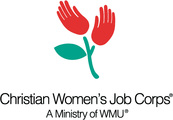 Our CWJC program has ministered to local young women for several years, helping meet physical and spiritual needs of young families. Classes for women and men are offered in parenting, nutrition, and Bible study and meet once a week.
Contact RaNon Caraway, site coordinator, at the church office for more information.


---
Lake Ivie Baptist Association

Our church is associated with a number of other Baptist churches in this part of Texas. The Associational office is in Ballinger. The Lake Ivie Baptist Association (LIBA) has events throughout the year for youth, adults, and senior adults; pastor training; marriage conferences; and mission trips. FMI see the website at http://www.lakeiviebaptist.com/


Godly Impressions Preschool

FBC Brady offers a Christian preschool Monday through Friday or Monday-Wednesday-Friday. The school offers Christian instruction and love in a structured environment. School hours are 9:00 am-12:00 pm during the school year. Preschool classes are for children 3-5 years old.
State-licensed all-day childcare is also available year-round for ages birth to 5 years old Monday-Friday from 7:00 am to 5:30 pm.
Holly Stewart leads a staff of caring teachers who are ready to minister to your children.
Please call 325-240-0708
or come by the church office for more information.
---